SSC CPO 1876 SI Vacancy Notification 2023 Released - Full Details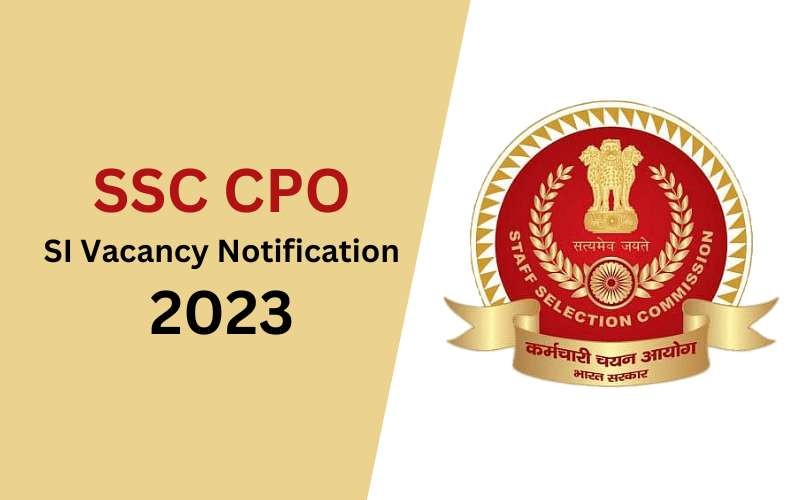 The SSC conducts an annual recruitment procedure to fill the positions of Sub-Inspector (Executive) in the Delhi Police and Sub-Inspector (GD) in the CAPF with qualified college graduates. One thousand eight hundred seventy-six positions for Sub-Inspector in the Delhi Police and the Central Armed Police Forces will be recruited via the SSC CPO Notification 2023. The complete SSC CPO Notification may be a downloadable PDF document on the SSC's official website (www.ssc.nic.in). Applications for the SSC CPO 2023 Exam can now be submitted online. You may get daily multiple-choice questions to help you study for exams and their latest government job notification information. For more information on the SSC CPO Notification, read the full article.
Job Openings for SSC CPO in 2023
This year's SSC CPO SI Notification 2023 has 1876 openings for Sub Inspector in Central Armed Police Forces (CAPF) and Sub Inspector (Exe.) in Delhi Police- Male & Female. The Delhi Police Department has revealed 162 vacant SI positions out of 1876, while the Central Armed Police Force (CAPF) has announced 1714 positions.
How to Apply for the SSC CPO Exam, Announced in 2023
Step 1: To begin, please use the URL above to access the official website. Clicking this link will take you to the SSC CPO registration page.
Step 2: Find the "Apply Link" on the official page and follow it to the registration portal. A new window will open with registration instructions when you click the link.
Step 3: In the SSC CPO 2023 application box, select "New Registration" to start the registration process. To continue, please select the "Register" option.
Step 4: To begin the registration process, please provide your full legal name, the names of both of your parents, your date of birth, an email address, and a phone number.
Step 5: You may register for SSC CPO 2023 online now by filling out the form and then clicking the "Submit" button. Please verify the accuracy of all the data you have entered before submitting. Your SSC CPO 2023 test application will be processed, and you will receive a Registration ID shortly after that.
Step 6: Log in with your Registration ID, DOB, and password to access the rest of the SSC CPO 2023 application.
Step 7: Next, you'll need to provide photos and a signed digital document that meet SSC's requirements.
Photograph:
Take a picture that's easy to see against a white or light backdrop, and make sure it's 100 pixels wide by 120 pixels tall (about 4 kb to 12 kb in size).
Signature:
Use black or blue ink on a white page, then scan it as a jpg. Dimensions for the file should be 40 pixels wide by 60 pixels high, and the size should be between 1 and 12 kilobytes.
Step 8: Review your complete SSC CPO 2023 application for problems or bugs when you've finished filling it out.
Step 9: After double-checking your answers, you can send in your SSC CPO 2023 application by clicking the "Final Submit" button.
Step 10: You may finish the application procedure by paying the required application cost using an online payment method such as a credit card, debit card, BHIM, UPI, etc.
Finally, please print a copy of your SSC CPO 2023 application for your records and as a reference. I hope your studying goes well. Be bold about contacting the proper SSC personnel if you have any questions. Find the top Govt Job Coaching in Sikar for SSC CPO if that's what you're after.
Eligibility Requirements for the SSC CPO Recruitment 2023
Candidates for the positions of Sub-Inspector in the Delhi Police, CAPFs, and Assistant Sub-Inspector in the Central Industrial Security Force (CISF) must meet the requirements outlined in the SSC CPO Eligibility Criteria. To be considered for employment, prospective candidates must meet specific standards. The SSC CPO 2023 eligibility requirements are outlined here.
Selection Procedure for SSC CPO Notification 2023
Paper 1 is the written exam, Paper 2 is the written exam, Paper 3 is the physical standard test/physical endurance test, and Paper 4 is the detailed medical examination for the SSC CPO position. Locate the most reputable SSC coaching center in Sikar by providing a list of respected institutions. Candidates will be selected to participate in the Physical Ability Test or Psychological Ability Test based on how well they do on Paper-I.
Paper-I's qualifying scores may vary depending on factors, including the number of applicants in each eligibility group and the number of available positions.
PET/ PST is obligatory but not conclusive. PET testing is optional for vets.
Paper-II Exam participation is restricted to individuals who have already passed the PET/PST.
The following are the required scores to pass Paper-I and Paper-II: 30% from UR, 25% from OBC/EWS, and 20% from everyone else.
Candidates will be selected for the Medical Exam based on their scores in Paper-I and II. If a candidate passes a medical test, they will be contacted for a thorough Document Verification process.
All finalists must appear in person for the Document Verification process. At the time of Document Verification, candidates must provide the originals of all supporting papers.